Baby Shower Favors Baby Booties Goat Milk Soap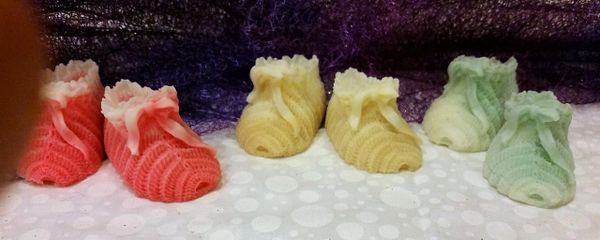 Baby Shower Favors Baby Booties Goat Milk Soap
Goat Milk Soap Baby Booties. These adorable baby booties are sold in quantities  of 20 pairs, 40 pairs,

choose your colors, scent, quantities, and appropriate shipping from our drop down menus. choose from standard-no packaging, to single box or velum box for pairs.
Ingredients: Fresh Goats Milk, Olive oil, Coconut Oil, palm oil, castro seed oil.

Your Baby Booties are Made to Order and allow 10 days till shipping. You Booties will ship via USPS Insured  Flat Rate Box, and will ship "cool pack" during hot summer months. we will ship to your home or place of business, as the soaps are heat sensitive. we would prefer someone to be at residence when package arrives.